NASAW Curriculum
Private Lessons
All string players need weekly private lessons to successfully participate in advanced orchestral music programs.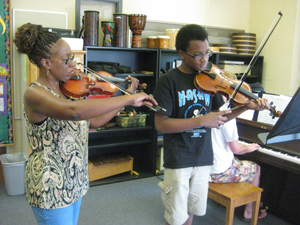 Summer private lessons for violin, viola, 'cello, and string bass are available to African American students who have had at least one year of public school strings class. Thirty minute lessons are taught at North Heights Christian Church (3030 N. Hillside, Wichita, KS) on Thursday evenings and Friday mornings at Tabernacle Baptist Church (1817 N. Volutsia) for eight weeks from late May through July. Exact dates for this summer are listed on our calendar. The tuition for nine weeks of private lessons, activities and a NASAW t-shirt is $65.00. Scholarships based on need are available.
Suzuki Violin Lessons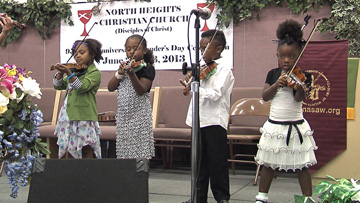 Beginning Suzuki violin lessons are available to students 5 years old and older. They work as a group for one hour each week. 
Large Group Lessons and Events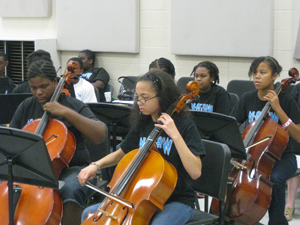 Large group lessons and events take place periodically throughout the summer. These events are free and feature both national and local guest teachers. We have traveled to the OK Mozart Festival in Bartlesville Ok and Nicodemus Kansas to perform in classes and recitals.