The Northeast Area Strings Academy of Wichita, Kansas (NASAW)
is a summer music program designed to educate and encourgage African American String Students.
Bad weather is possible tomorrow evening for the start of NASAW. We do have a basement at North Heights (and all the churches we use for events). If you are unable to make your time due to weather, consider dropping by Tabernacle between 9-12 on Friday morning so we can work a few minutes with your son or daughter and get them some music to take home to practice!

Summer 2013
NASAW's summer dates are May 30 through July 25, 2013. Private lessons are taught on Thursday evenings and Friday mornings at your scheduled time (Times can be scheduled when you enroll).
Our recital workshop is Tuesday morning July 23 from 9:00-11:30 at First Evangelical Free Church 1825 N. Woodlawn.
Our Summer ending recitals are Saturday, July 25th at 11:00 a.m. and 2:00 p.m. 
Tuition is $65 for eight weeks of lessons and activities. Each student receives a free 
2013 NASAW T-shirt with their paid tuition.
Click here to sign up.
Our 20th Anniversary!
We are celebrating our 20th year~Help us make 2013 our best summer yet and sign up TODAY!!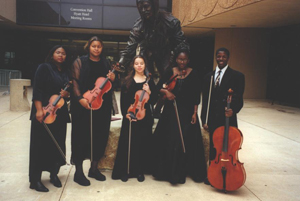 Amber, LaCora, LaNora, Brittany and Titus (2001)
For 20 years, the Northeast Area Strings Academy of Wichita has worked with  African American strings students from age 5 through college. Many of our students keep in contact with us as they have gone on to college and into the working world. We love keeping contact and having a 'family' atmosphere of support and encouragement at NASAW. Come join our family!
---

What is NASAW?
We are a summer classical music school dedicated to the preparation and education of the African American string player. Our goal is to equip students of the violin, viola, cello and string bass with the skills, support and encouragement needed to succeed in orchestral and solo performance. Since beginning in 1994, NASAW staff have worked with students ranging in age from third grade through college level. In addition, we give guidance and support to African American parents who may be new to the world of classical music and the opportunities available to their youngsters. We have seen tremendous progress in our twenty years of existence.